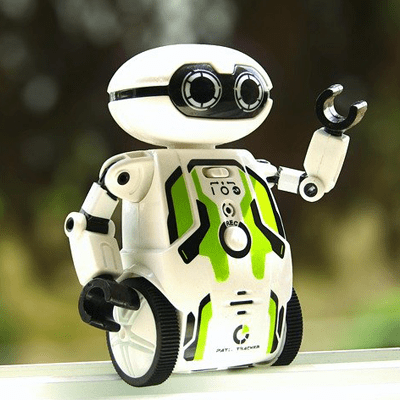 Over the course of the past sixty years, technology has been growing at an alarming rate. Technology is the assemblage of techniques, approaches or procedures used in the manufacture of goods or services or in the achievement of objectives, such as scientific investigation. The primary goal of technology has always been to find simple solutions to complex problems. Robotics is the science that uses technology to build robots to perform specified tasks easily without human aid. Robotics is a combination of electrical engineering, mechanical engineering and computer science that deals with the design, creation, operation, and application of robots, as well as computer systems for their control, sensory feedback, and information processing. Robotics studies automatic machines that can replace humans in hazardous and dangerous surroundings or industrial processes, or resemble humans in appearance, behaviour, perception and reasoning.

The word robot comes from the Slavic word 'robota' meaning labour. The idea of creating machines that can function independently dates back to classical times, but research into the functionality and potential and latent uses of robots did not grow significantly until the 20th century. All through history, robotics has been often seen to impersonate human behaviour, and accomplish tasks in a similar style and manner. Today, robotics is a rapidly growing and emergent field, as technological advances continue; researching, designing, and building new robots serve various purposes in the real world, whether domestically, commercially or militarily. Many robots do jobs that are hazardous to people such as defusing bombs, mines and exploring shipwrecks.

The idea of developing a robot sounds challenging and difficult, but the fact is is that anyone who is enthusiastic and keen to bestow their time to the hobby can make a robot of their own. The tricky part is the amount of technical information involved and although it isn't a necessity, it is imperative to have a basic understanding of it. For amateurs in robotics, there are plentiful books and videos that can get you started in the right direction along with numerous online websites that give a step by step walk through for developing robots.

The foremost thing new hobbyists need to decide is what sort of robots interest you. Robotics is diverse and each type requires a specific set of skills for development. You need to research and gain skills in specific categories to build a perfect robot. The hobby of robotics is one of the most challenging and demanding hobbies to get into, but the outcome of a homemade robot is invaluable.

Hobbylancer and You

At Hobbylancer interact with other robot enthusiasts, watch tutorials, create basic designs of robots and share it for all to see. Learn more about robotics from experts, find and attend workshops in your locality, apply for internships and sell your products. Share ideas with the world, post queries, form teams and organise competitions for the same only at Hobbylancer.