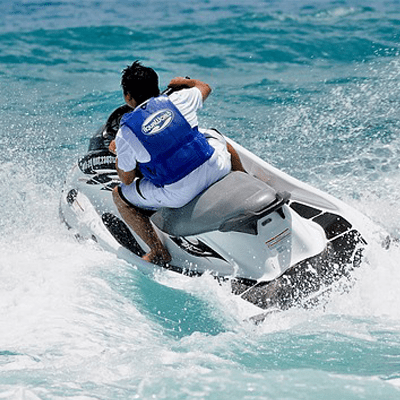 Though Jet Ski is the brand name of a personal water craft manufactured by Kawasaki, a Japanese company, this term is often used as a verb to describe the use of any type of PWC.
The thrills of jet skiing are experienced at sea beaches. Though many get introduced to jet skiing while on holidays, but many pick this up as a hobby as it let you ski the water at high speed. Jet skiing is a high speed water sport that helps in developing your balance and coordination skills as well as your leg muscles.
There are many great locations for you to experience jet skiing. Not only is it easy to pick up, it is probably the fastest and adrenaline attached to that speed that attracts thousands of people to the sport.
Jet Skiing is like riding a motorcycle on the water and it is an exhilarating ride helping to burn calories. It helps improve cardiovascular system which in turn increases blood circulation, bringing more nutrients and oxygen to your tissues. Jet skiing is good for developing balance and coordination skills, as it requires concentration to stay on board. It is a calorie burner. An average person around 70kg (approx. 154 lbs) will burn over 200 calories during a 30-minute stint of jet skiing.
Jet Ski racing competitions are popular in the United States and Australia. All athletes taking part in the races are required to wear helmets, full body suits and other protective gear. Races last for a fixed number of laps, and the rider to first complete the number of laps and cross the finish line is the winner.
At HobbyLancer, you will come across various adventure lovers like you all around the globe. Explore the endless possibilities and share love.