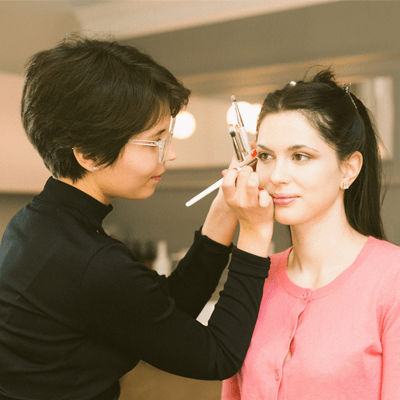 A makeup artist (MUA) is an artist whose main work is on the human face and body. They apply makeup and prosthetics on others for a variety of purposes such as television, theatre, film, fashion, modelling, photo shoot, magazines and many more. This profession has achieved many awards in the entertainment world, some of them are the Emmy Awards, the Golden Globes , the Academy Award for Best Makeup and Hair styling. Although makeup artists are hired at several large companies but most MUA's usually work as freelancers and their works and times are flexible depending on the projects.
Makeup Artists (MUAs) are skilled enough to use their makeup products to enrich the beauty and physical characteristics of a person. They also know that how to change a person's appearance whenever needed for a specific production such as fantasy production and science-fiction. Various types of television shows, theatrical and different forms of performances and productions also required a lot of makeup and prosthetics to change a person's appearance.
Fashion and TV shows producers, theatres, production studios, stage performers, brides and beauty centres are the most common sectors that hire Makeup Artists. They work as a part of the production. Besides, it is very common nowadays for makeup artists to be self-employed. They have their own clients. Some makeup artists also give master classes to teach proper makeup.
Makeup Techniques:
Fashion makeup is commonly used for the fashion runway and magazine photography. Avant-garde makeup technique is very popular for being artistic, dramatic and often extreme. It shows the creativity level of a makeup artist is generally used for projects that require experimental themes. Their work demands a profound knowledge of colour, skin types and makeup elements. Fashion makeup is also used in television and film industry to give a natural look to the actors, actresses.
Makeup artists use their skills to make a person's look more beautiful and to correct their incompleteness in a natural way. Whether they are creating the smoky eye or cut crease, highlighting cheekbones or applying prosthetics for theatrical productions, they are really great artists like their own.
Theatrical makeup is to balance the makeup of the actors' face with the lighting on stage. This kind of makeup is done to create the appearance of the characters that the actors are portraying and to make the expressions of the actors' are clearly visible to the audience from a certain distance.
Airbrushing is a small air-operated device that sprays various media, most often paint and water-based makeup by a process of nebulization. Recently it is popularized by the arrival of HDTV and digital photography. Liquid foundations that are high in terms of coverage but thin in consistency are applied with the airbrush. This airbrushing technique gives full coverage without a heavy build-up of products.
Bridal Makeup-Marriage is one of the most special occasions of every girl's life. Every bride has a dream to look her best on her wedding day and Bridal makeup is an essential part of the wedding nowadays. This is a perfect opportunity of an individual who wants to look natural with a vibrant touch.
At HobbyLancer, you will come across many talented makeup artist whom you can hire for any occasion. If you are yourself a makeup artist, create a portfolio with us and let the world know.