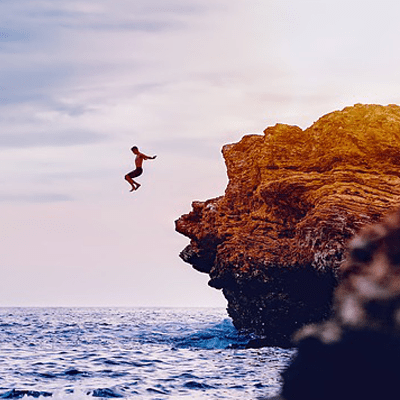 If you're looking for an dangerous hobby, one where you don't need any real skills and ability, where you don't need equipment and one that is truly uncomplicated, then cliff diving is the hobby for you.Cliff diving is the sport of leaping or diving into the water from a cliff. It is considered as an adventurous and daring sport. Cliff diving is an adrenaline-charged, exhilarating form of extreme sports. The thrill and sheer joy of diving with adrenaline rushing through your body is attracting people to take it up as a hobby. It is a regular activity that can be done during recreational or leisure time for pleasure and self-gratification.There is a word of caution in this rewarding hobby as it is dangerous and it should be performed only after proper training and under supervision.

Cliff diving doesn't require buying expensive equipment or clothing like you require for mountaineering or scuba diving. Cliff diving is solely dependent on yourself, your guts and your adrenaline. It's principally just you, your body, the zephyr you'll be gliding through from extreme altitudes and then the water. Plunging right into the water, into the unknown, is one of the most nerve-racking experiences some people seek to know and feel. Usually the elevation of the jump is around 85-90 feet, that's just over 26 meters! That's what extreme hobbyists aim for!Although it doesn't matter whether the elevation of the cliff is 5meters or 28meters as no jump is a safe jump.

Cliff diving became a recognized and accepted Olympic sport in the summer of 1996 when the World High Diving Federation (WHDF) was created. Now cliff divers, hobbyists just like yourself, travel the globe in pursuit of that perfect dive, that one most awesome and overwhelming spot with the highest adrenaline-boosting factor of all cliff dives. Most of the cliff dive locations you'll visit are exotic, beautiful, adorable and purely breathtaking. Such spots may include natural flowing pools or the hot tropics. When you take that dive into thin air off the side of a cliff, you get into what's better known as 'free fall'. With cliff diving, and your body going into free fall, there's no friction and almost no air resistance if you dive it just right.

The homeland of the crazy sport and hobby, cliff diving, is believed to be Hawaii where the king leaped off the cliff and got his soldiers to practice the same thing. Mexico is also a hot spot for cliff divers of all ages, young and old alike. Another amazing location with breath-taking backdrop is Croatia. The sheer kick, nerve racking and adrenaline-pumping nature of this sport or hobby is what gets the people glued to and hence inspires them to take it up as a hobby.

Hobbylancer and You

At Hobbylancer get in touch with other cliff divers, learn about the techniques of cliff diving, keep track of newly achieved feats and promote exotic locations as hotspots for the sport. Discover new cliff diving locations, jump for a cause and raise money, encourage amateurs and work with channels to cover documentaries on the sport. Let the adrenaline rush through your veins as you jump off the cliffs only at Hobbylancer.