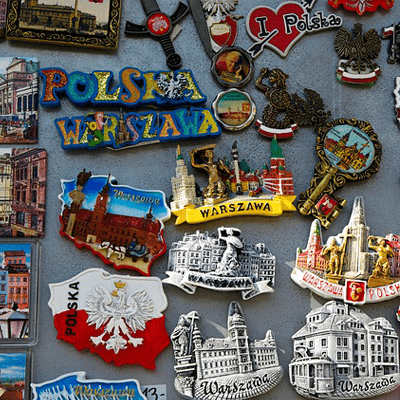 A refrigerator magnet or fridge magnet is a beautiful ornament attached to a small magnet which is used to post items such as memories or travel, places of historic importance on a refrigerator door. This simply serves as decoration. Refrigerator magnets can be in variety of shapes and sizes. Refrigerator magnets are popular souvenir and collectible objects.
Collecting:
Collecting magnets is a hobby that mostly people collect from their travels, or of a particular theme. They are sold at souvenir shops worldwide. A Russian collector has proposed the term memomagnetics (Russian: мемомагнетика), derived from the words memoriale (Latin) and magnetis (Greek) A collector of magnets would be called memomagnetist. These terms have been used by at least one Russian online community for magnet collectors.
In January 1999, Tony Lloyd, a teacher in Cardiff, Wales, had largest collection of fridge magnets in Europe at that time, over 2000. As of January 2016, he had a collection of over 4500. In February 2018, whilst on holiday in Sri Lanka, his 104th country, Tony's collection surpassed 5,000 magnets.
What are Magnets made of?
There are many different types of magnets. Magnets come in all different shapes and serving various purposes. Some are used as bottle openers or photo frames.
Magnets that are made of wood often have a rustic feel and this material is generally used for hand-crafted souvenirs from tourist destinations, with place names etched into them.

Many souvenir magnets that feature famous landmarks are made from resins for detailed sculpture of the monument or icon that the magnet is depicting.

Magnets produced with a rubber cut design tend to be fun and colourful.

Plastic or acrylic fridge magnets often display full colour photos and are likely to be given out as cheap.

Metal fridge magnet designs normally have engraved designs which have high quality feel and make rather prestigious looking gifts.
Magnets collection is an affordable hobby and here's why:
Magnets are mostly cheap. Magnet collecting is an affordable hobby where you can decorate your fridge door or magnetic collecting boards without really spending a lot. Collecting magnets is about collecting magnets appeal to you the most. If you are looking for a fun, but affordable hobby, then fridge magnet collecting is the one for you. Magnets are a great idea to take back home as souvenirs and will show your guests all the places and attractions you have been. These are like little trophies of your adventures
Hobbylancer and You

At Hobbylancer share your love for magnet collection, share with us picture of your refrigerator or your magnetic board. Let the page visitors travel the world through your pictures. If you are a creator, you can share your creation and earn money. Embrace your love for magnet collection only at Hobbylancer.