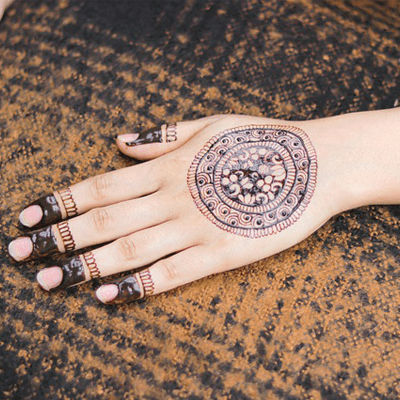 Mehndi is a form of body art which is evolved from ancient times in India. Here decorative designs are created on a human body, using a paste of the henna plant's leaves (Lawsonia inermis). It is also widely used in India, Pakistan, Bangladesh, Africa, some Arabian countries and the Middle East for thousands of years.
Earlier it was commonly used for the palms of women's hands and sometimes for men's but with the progress of time, its use is now very common among the men. The use of mehndi and turmeric paste on someone is a Vedic customs which symbolize the representation of the outer and the inner sun. Mehndi also has considerable significance in some of classical dance forms like Bharatnatyam.
Usually women design mehndi on their hands and feet. It has a variety of colours as well as a variety of designs. The natural colour of mehndi is brown. But now there are different colours are available in market such as red, blue, green, yellow, black etc.
Earlier henna was used on body to cool it down. A dot was made with henna on the palm of the hands to keep the body cool. Then gradually some lines and shapes were added to it from which today's beautiful mehndi designs have originated.
Mehndi design is applied in Indian tradition for various reasons like Hindu and Muslim weddings, Namboodiri weddings and Hindu festivals like Durga Pooja, Diwali, Vat Purnima, Karva Chauth, Bhai Dooj, Teej, and Muslim festivals such as Eid-ul-Fitr and Eid-ul-Adha. In order to enhance the beauty of the Bengali brides, Alta is used in the same way as henna to paint the feet of the brides.
Henna is commonly used in areas of the body such as hands, feet, sometimes back of the shoulders and chest of men where the skin colour in lighter than the other part of the body. So the pigmentation is clearly seen due to the colour contrast.
At HobbyLancer, you will come across various mehndi artists and you can learn unique techniques as well. If you are a professional mehndi artist, you can post your offerings and get customers from this platform.