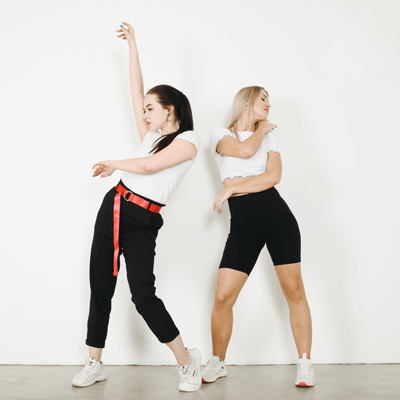 Modern Dances are genre of western or theatrical dance comprising with various styles, primarily originating from Germany and United States in the late 90s. With the advancements in music technology, many new types of dances were born. Introduction of electronic and rock music brought into existence forms of House, Punk, Rave and Disco dance. Though initially India did not care much for those styles, now India has also accepted this form. India, in accordance to the deeply seeded religious beliefs, incorporated dance of their gods to everyday life and resulted in profitable Bollywood movie scene.
This form of dance allows better freedom of movement. Below are some of the popular Genres:
Punk dance originated from 1960s garage rock. The punk rock managed to attract fans who enjoyed more energetic and sometimes violent dance style of moshing (sometimes called slam-dancing) and headbanging.

Disco dance music genre of the 1970s gained much popularity for its easy to dance with. Fans of this music often wore extravagant clothing while dancing free form or structured. Few structured forms of disco dances are Bump, Hustle, Robot, Boogaloo, Watergate, and others.

House dance - The genre of House music and house dance is built on top of smoother rhythms and influences of jazz, Latin, soul, funk, and many other music styles. This social dance quickly became popular across the entire world.
Rave dance - With the passion for pulsating beats, loud volume and pulsating music effects, dancers of rave music their own freestyle of movements, with no rules or synchronized moves, usually in dark and crowded venues of dance clubs, nightclubs, and festivals.
Bollywood dance has now form a genre mainly because of its huge popularity and market. This is created as the mix of traditional Indian music, and Middle-Eastern techniques. Bollywood dance involve a large number of participants. It is characterized by mesmerising choreographies, energetic movements, and dances.
At HobbyLancer, we are sure you will come across many such forms and may pick up some form as your next hobby. If you are a professional, you can share your programmes on here and can find new students who may want to learn Modern dance.