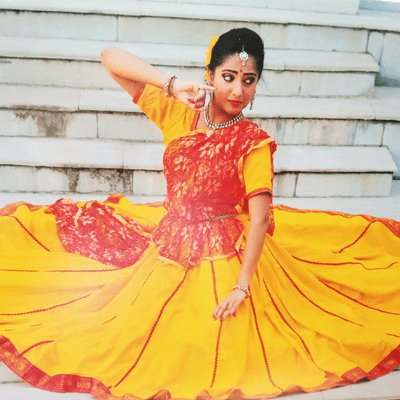 Traditional Dance mainly refers to various dance forms that imbibes historical and cultural essence of any country. Indian classical dance or 'Shastriya Devesh' refers to religious Hindu musical theatre styles, which dates back to times of Sanskrit text Natya Shastra.
The Sangeet Natak Academy recognises eight major dance forms in India –
Bharatanatyam, from Tamil Nadu
Kathak, from Uttar Pradesh
Kathakali, from Kerala
Kuchipudi, from Andhra Pradesh
Odissi, from Odisha
Sattriya, from Assam
Manipuri, from Manipur
Mohiniyattam, from Kerala
Later Chhau, Yakshagana and Bhagavata Mela was added to the list. These dances are regional with combination of music and recitation in local language or Sanskrit. They reflect unity of in diversity of styles, costumes and expression.

Ballet (French: [balɛ]) is a performance dance which originated during the Italian Renaissance in the fifteenth century. It was later developed into a concert dance form in France and Russia. It spread globally and influenced cultural dance form worldwide. Traditional classical ballets are usually accompanied with good music, elaborate costumes and staging. While modern ballets are often performed in simple costumes (e.g., leotards and tights) and without the use of sets or scenery. Tutus, pointed shoes and men in tights are what come to mind when someone mentions ballet.
Tap dance is often referred to as "musical feet". Tap is a form of dance where dancers use their feet as instruments. Tap shoes are specially designed with special metal plates on the toe and heel which make "tap" sounds. Despite different types, the two most popular are Rhythm Tap and Broadway Tap. Rhythm Tap is more musically driven, where Broadway Tap is more dance and movement-oriented. Tap is excellent medium of bringing rhythm in dancers, as it turns their feet into a musical instrument.

Jazz is the most popular style of dance among dancers. Jazz combines all energetic dances, mainly influenced by ballet, modern, tap, hip-hop, African dance and many more styles. Jazz is most often accompanied by upbeat, currently popular songs. Jazz shoes are leather split sole which offers the dancers foot more freedom to bend and move.
Tango dance form originated in the Argentinean region of Rio de la Plata. This dance is today known by many of its variations (Argentine tango, Uruguayan tango, Finish Tango and two types of Ballroom tangos - standard and American) and the fascinating sensual and energetic style.

Folk dances represent cultural. musical heritage, daily life or ethnic history of people who live in a certain region or country. There are hundreds of variations and styles all around the world. Folk dances are usually performed at dance gatherings accompanied with traditional music of the region. Majority of folk dances slowly change with the passage of time.

Belly dance originated from Egypt and it is one of the most famous oriental folk dances in the world. It involves the complex movement of the torso and entire body. With sudden body movements, continuous fluid body motions and presence of shivers and vibrations of the hips or the rib-cage, belly dance is considered as very sensual, emotional and captivating.

Salsa is Latin dance, mostly popular in Latin America, North America, Europe and Australia. It's very sensual form with energetic movement and unique choreography, It is mainly popularized by Mambo, Changuyi and Rumba all around the world.

At HobbyLancer, you will be mesmerised to see how many various traditional dance forms exists in the world. If you perform / teach, you can easily showcase your skills and earn fame and money. Keep exploring.