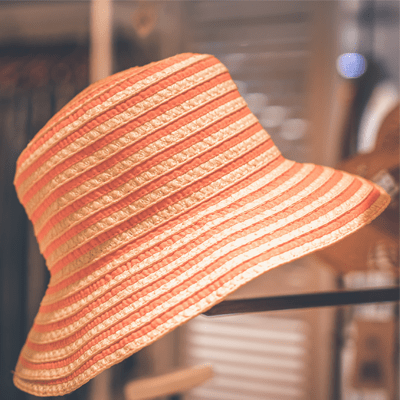 Millinery is sold to women, men and children, though some definitions limit the term to women's hats. Historically, milliners, typically women shop-keepers, produced or imported an inventory of garments for men, women, and children, and sold these garments in their millinery shop. More recently, the term milliner is more often used to describe a person who designs, makes, sells or trims hats primarily for a women clientele. The origin of the term is probably the Middle English milener, meaning an inhabitant of the city of Milan or one who deals in items from Milan, once known for setting the fashion standards in Europe.
The art of millinery hasn't changed much in hundreds of years with many of the tools and equipment evolving slightly as new technology has simplified processes. Indeed many of the techniques used today are in essence the same as they were centuries ago. In this article, we'll take a look at some of the essential tools you'll need if you want to start making your own hats.
1. Hat blocks
When it comes to hat making the humble hat block is perhaps the simple most important piece of equipment for creating the perfect hat. Commonly made from blocks of wood or aluminium they are used to shape the hat during the blocking process. Milliners will have lots of different blocks that are used for different styles of hats as well as for varying head sizes.
2. Steam iron
As well as pressing fabric during the blocking process a steam iron can also be used to steam fabrics prior to blocking. A steam iron is a very versatile tool that has multiple uses in the world of millinery. Modern steam irons are fast to heat up and provide plenty of steam for blocking fabrics, fusing interfacings and softening sinamay and buckram.
3. Dressmakers tape
Accurate measurement is a necessity when it comes to hat making, so a decent dressmakers tape is something that you'll need. As well as a tape you will also need a range of metal and plastic rulers for drawing lines and to help when cutting out fabrics.
4. Fabric scissors
A good pair of fabric scissors (https://www.parkinfabrics.co.uk/haberdashery/scissors.html) will make cutting fabrics a snip. Where you will be regularly cutting lots of different types of materials it may well be worth the investment of getting a couple of pairs of fabric scissors.
5. Sewing tools
There is a lot of sewing involved in creating the perfect hat so you'll need a good supply of general sewing tools and equipment. The items that you'll need include a range of needles, tailors chalk, pins, quick unpick, pliers and wire cutters, drawing pins, machine sewing needles and a selection of thread. Generally, anything that you commonly find in a sewing kit will be handy when it comes to millinery.
6. Hatstand and Dolly
A good hat stand will make sure that your hat does not rest on its brim and also ensure that the crown is properly supported. Hat stands that have an oval foam shape are the best. Linen dolly heads let you continue working on your hat, and the padded lining means that the hat can be pinned in place while in situ.
With the tools and equipment above you should have everything you need to start creating beautiful hats and begin your love affair with all things millinery.