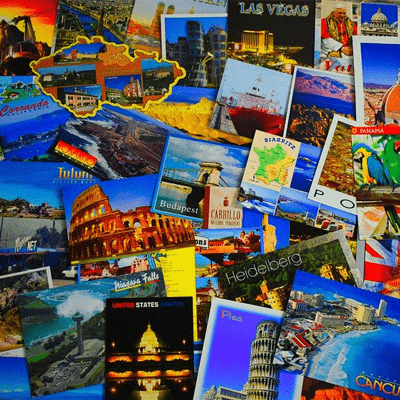 A postcard or post card is a thin cardboard or thick paper intended for writing and mailing without an envelope. However it can be Non-rectangular shapes as well. There are also wooden postcards, copper postcards sold in the Copper Country of the U.S. state of Michigan, and coconut "postcards" from tropical islands.
While a postcard is usually printed and sold by a private company, individual or organization, a postal card is issued by the relevant postal authority (often with pre-printed postage).

Production of postcards started in the late 19th and was popular in early 20th centuries. The study and collecting of postcards is termed deltiology.

Collection storage
There are three most popular ways to store postcards:
1. Index card 2. Albums 3. Envelopes
Until the 1990s collectors mainly used cardboard albums. Nowadays plastic photo albums with pockets are used where a postcard can be inserted in the pockets completely. The album storage method is more secure and more visually appealing. However, the collection takes up space and weight a lot. Even it is quite costly.
With the index card storage method, postcards are kept in boxes of the appropriate size. Such boxes can be made by the collector by themselves from plywood, hardboard and standard shoe boxes.
Lastly the envelops, a collector can put different postcards in an envelope dividing them by their themes. The main advantages of these methods compared to albums are its compactness, money saving, and time saving as you do not need to spend time on inserting and rearranging cards in albums; the main disadvantage is that postcards quickly wear out from constant sorting.
With the advent of internet and emails, postcards are slowly becoming extinct. However anyone having this hobby, is a priced possession for its antique value.
Hobbylancer and You
At HobbyLancer, you will meet and come across various hobbyists just like you. Share your collection on here and give everyone a chance to see your collection. With hobbylancer, you may even sell your collection and get a high price from hobbyists and collectors all around the globe.